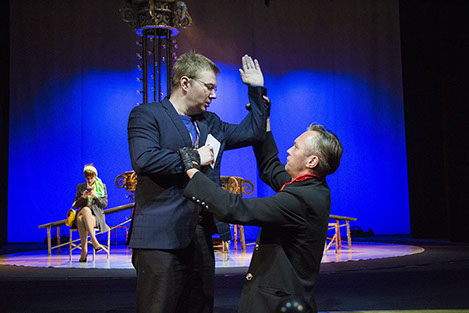 A peace loving Psychologist, who saves inhabitants of a big city from depression, is obsessed by Trickster, the spirit of trickery and deception. Now they have to exist together – a new Dr. Jekyll and Mr. Hyde; the clients of the Psychologist will get acquainted with them soon.
All of them have to face magic of pure chaos. But this may be the way to the true happiness that they have been looking for.
Trickster club is the first play by Vlada Olkhovskaya, the Belarusian playwright and prose writer. The play was staged at the Belarusian State Youth Theatre for the first time and became the winner of the international competition of modern dramatic art "Drama time" (Russia) in 2018.
Andrey Gladky
Denis Moiseychik
Ekaterina Romannikova
Kirill Novitsky
Olga Davydova-Roik
Igor Vepshkovsky
The stage director – Andrey Guziy
The set designer – Andrey Merenkov
The costume designer – Victoria Tya-Sen
The ballet master – Irina Shirokaya