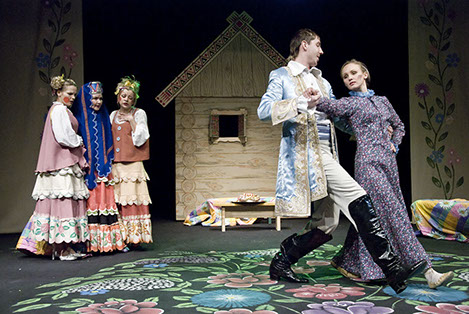 This is an amazing fairytale about a Russian beauty and a noble Tsar, who fell in love with her.
Her stepmother and sisters envied Vasilisa's talents and success and forced her by deceit to go to Baba Yaga. Vasilisa managed to do all the tasks of the hostess of the hut on chicken legs by means of resourcefulness and magic.
And at the end of the fairytale all good characters are rewarded, because the good and love always win.
Premiere – December 24th, 2008.
Duration – 50 minutes (no intermission).
Marina Blinova
Elena Khristich
Lyubov Pukita
Yulia Surmeyko
Ekaterina Romannikova
Anastasia Solovyova
Maxim Dubovsky
Dmitry Bogoslavsky
Denis Avkharenko
Anzhelika Kozulina
The stage director – Tatsiana Patsay
The set designer – Tatsiana Patsay