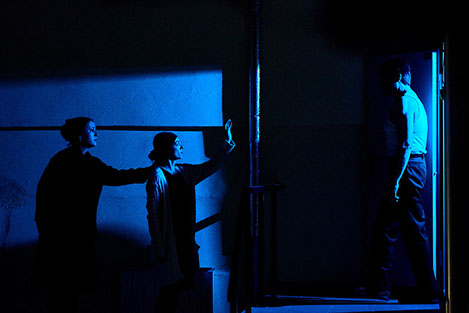 Sasha, take out the garbage
Natalia Vorozhbit      16+
There is a time to live, and there is a time… to make war. But what if you are an army officer and have died of a cardiac failure before the war?
Sasha is convinced that death is not an excuse for the one who has sworn an oath to protect the Motherland. His wife and his pregnant step-daughter are ready to take him back from the dead if he returns back to the family and not to the war. The living souls argue with the dead, the women turn against the selfish rules of the man's world, where their destiny is to see off, wait, mourn – and still keep on living.
The play is about family and the moral choice of its head – a man. Because representatives of a strong half of mankind, "doing a little muscle-flexing" often forget that their wives, daughters and mothers stay home.
The play "Sasha, take out the garbage" is written by the modern Ukrainian playwright Natalia Vorozhbit. The play was staged by the theatre actor Dmitry Bogoslavsky at the Belarusian State Youth Theatre.
Premiere – February 6th, 2016.
Duration – 1 hour 20 minutes (no intermission).
Natalia Onishchenko – the Honored Artist of the RB
Lyubov Pukita
Alexander Pashkevich
The stage director – Dmitry Bogoslavsky