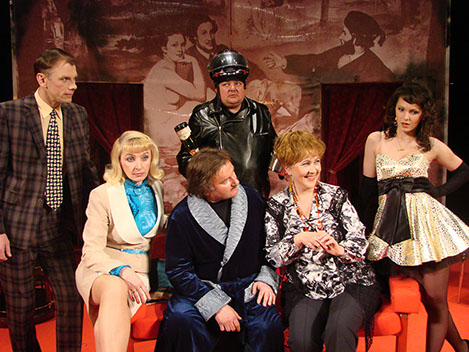 Pyjamas for six (Don't dress for dinner)
«Pyjamas for six» is a funny situation comedy in a real French style, based on the play «Don't dress for dinner» of the famous comedy dramatist Marc Camoletti.
The family life of a happy couple turns into a tangled skein of relationship. The desire to escape from a day-to-day circle of monotonous existence forces the characters to look for something new. For some time this search remains secret, but one phone call turns everything upside down. Constantly getting into tricky situations, the characters of the performance show miracles of dexterity and an extraordinary imagination.
Premiere – December 22, 2016.
Duration – 1 hour 10 minutes (no intermission).
Natalia Onishchenko – the Honored Artist of the RB
Evgeny Ivkovich – the Honored Artist of the RB
Sergey Sharangovich
Ivan Shetko
Raisa Sidorchik
Anna Bartashevich
Anastasia Solovyova
Ivan Shetko
The stage director – Mikhail Kovalchik
The set designer – Alexander Kostyuchenko
The costume designer – Olga Gritsayeva
Background music – Mikhail Kovalchik
The ballet master – Efim Fadeev