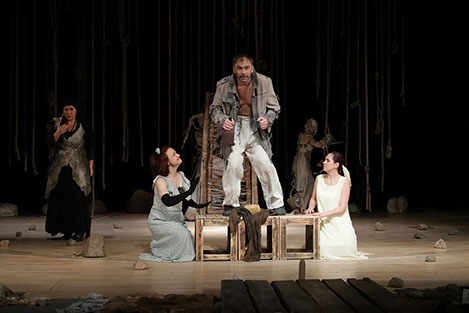 Three women live on a mystical island, where there is nothing, except stones and goats. They lead almost monastic life in isolation from the rest of the world.
However, the sudden appearance of a man awakens the hidden instincts and desires from a deep sleep, turns the relatives against one another and pushes them to do strange and terrible things.
It seems that the women, influenced by the dexterous goat herder, walk into the abyss obediently. But who will be the first one?
Premiere – 2014.
Duration – 1 hour 50 minutes (with an intermission).
Natalia Onishchenko – the Honored Artist of the RB
Evgeny Ivkovich – the Honored Artist of the RB
Marina Blinova
Tatsiana Novik
Anastasia Solovyova
Alexander Pashkevich
Denis Avkharenko
Ekaterina Romannikova
Lyubov Pukita
The translation from Italian – Vadim Mikhaylin
The stage director – Iskander Sakaev (St. Petersburg)
The set designer – Olga Gritsayeva
The costume designer – Victoria Tya-Sen
Background music – Mikhail Korenev