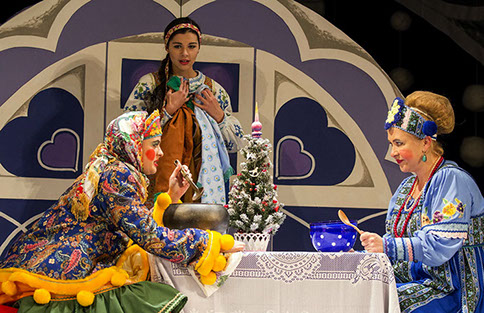 "Morozko", the famous Russian folk tale, known since childhood, is retold in a new way for the New Year.
Its story reminds with its simplicity and beauty of a frost-work on a snow-smeared window. This is Morozko who has decorated it; he will help kind-hearted and hard-working Nastenka to find happiness under the Christmas star.
At a frosty winter night, the Stepmother at the request of her jealous daughter Akulina sends the stepdaughter into the woods for sure death. Nastenka's hot and affectionate heart will not let her freeze. Wise Morozko will judge everyone in the right way: he will find a suitable award for both, diligent Nastenka and lazy Akulina. The magic fairy tale "Morozko" is full of Christmas songs, interesting riddles and exact sayings, gifts and miracles.
Premiere – December 24th, 2015.
Duration – 50 minutes (no intermission).
Natalia Onishchenko – the Honored Artist of the RB
Anatoly Lagutenkov
Elizaveta Ilyevskaya
Denis Moiseychik
Yulia Surmeyko
Ekaterina Romannikova
The stage director – Tatsiana Aksyonkina
The set designer – Olga Gritsayeva
The costume designer – Victoria Tya-Sen