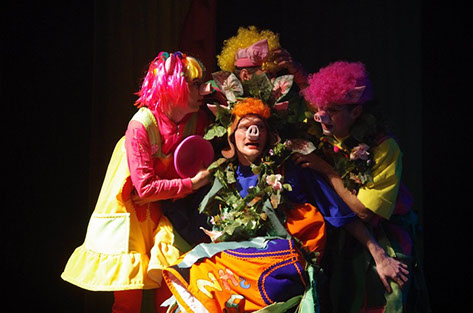 musical theatrics for children  0+
You will see the continuation of the famous fairy tale about three young pigs and the gray wolf.
This story tells that everyone needs good friends in life, who would set an example, teach how to be kind, polite and careful.
The stage performance includes a lot of modern music, poems and songs.
The brothers – a resourceful inventor Kharitosha and merry fellows Khrosha and Khrusha – meet the girl Nyusya who arrives from the city on holidays. Everybody has already forgotten about the wolf, but in vain. Nearby there is a brother of the wolf from the old fairytale, he keeps watching the friends and plans something. It is soon his birthday, and he has made up a cunning plan, how to entrap the young pigs…
Premiere – December 26, 2016.
Duration – 1 hour (no intermission).
Ilya Cherepko-Samokhvalov
Maxim Dubovsky
Elizaveta Ilyevskaya
Anatoly Lagutenkov
Denis Parshin
Anton Makukha
The stage director – Evgeny Ivkovich
The set designer – Olga Gritsayeva
The costume designer – Victoria Tya-Sen